A 60-year educational career and strong family love now mean that students who graduate from Honey Grove and Fannindel high schools are awarded scholarships to help them fund an education at Paris Junior College.
The Harvey Lynn & Patsy Milton Scholarship Endowment was established by daughter Ruth Ann Jones and son Robert Milton to honor their parents.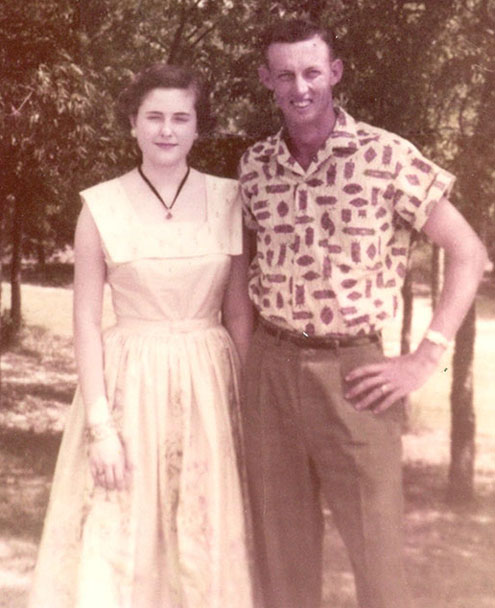 Patsy and Harvey Lynn Milton as a young couple.
The $200,000 endowment gift on her behalf to the Paris Junior College Memorial Foundation will benefit students graduating from Honey Grove and Fannindel high schools. Harvey Lynn Milton was an educator for 60 years and his son, daughter, grandson Justin, as well as his wife Mallory and granddaughter Jordan have all followed in his footsteps.
"Both my parents grew up very poor in the country," said Robert Milton. "They taught us to work very hard, to be busy – if you're busy, there's no difficulty – and to have a good work ethic. They couldn't always get the financial help they needed, but they certainly had the love and example. It is important that my family and my sister's family remember her in this way.
"Education is very important. My parents saw how difficult it was for some people to get an education. They wanted us to provide a way to help students improve themselves."
"We are grateful for the gift from the Milton family, which honors their parents' great legacy," said Dr. Pam Anglin, President of PJC. "This scholarship will continue the legacy of making a difference through education for students graduating from Honey Grove and Fannindel High Schools."
Patsy Milton was a 1954 graduate of Honey Grove High School. Harvey Lynn Milton graduated from Ladonia High School in 1949 and received his bachelor's degree from East Texas State Teachers College in 1953. He was very proud to have served on the Texas State Beta Council for 36 years and was appointed Board Member Emeritus. In 2010, the Fannindel School Board honored him by designating Fannindel Grammar School as the HL Milton Sports Complex.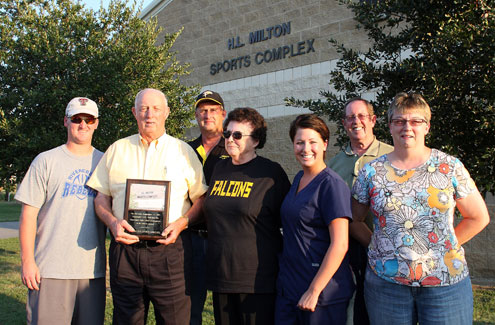 Shown from left are Justin Milton, Harvey Lynn Milton, Robert Wayne Milton, Patsy Milton, Jordan Humphries, Jerry Jones and Ruth Ann Jones at the dedication of Fannindel's HL Milton Sports Complex in 2010.
"Anyone who wanted to get an education should have the opportunity to get it," Jones said. "Children can apply for scholarships and get an education, no matter how poor they are, this education is accessible to all. My dad thought you should go to school around here. If you lived in Fannin County you had to go to Paris Junior College or Commerce and Paris Junior College is a great place for students to start and we wanted to support PJC.
"We were always taught to help others and to do what we could for others. We were blessed with the opportunity to do this, we just want to do something to honor her name for years to come."
Both HL and Patsy showed their love for children by being foster parents, caring for the sick and always helping others. Both were named Citizen of the Year for Honey Grove. They were married for 62 years before Patsy passed away on August 12, 2019. Harvey Lynn died on February 4, 2022.
Lifelong natives of the Bugtussle community, the Miltons have dedicated their lives to their church, the Oak Ridge Church of Christ, to Beta Club at the local, state and state levels, and to serving on many community boards throughout the region and state. One of Milton's favorite hobbies was farming with a John Deere tractor. He believed that everyone should work and was always willing to help anyone in need.
"Growing up, I knew that no matter what I did, I would represent my grandparents," Justin Milton said, "so it was always my thought to live up to their example. I went to PJC after high school. I didn't know what I wanted to do at the time, but after my first semester at PJC I knew I wanted to be an apprentice and have been an apprentice for 12 years now. I am who I am today because of the way they lived their lives."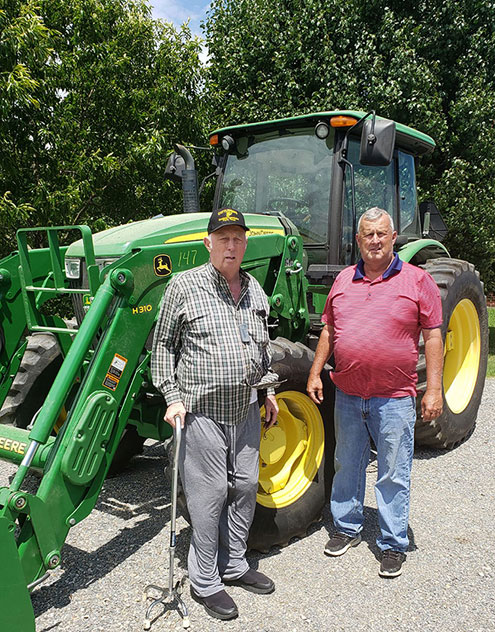 Harvey Lynn Milton is shown with son Robert in front of a prized John Deere tractor.
"Mr. and Mrs. Milton and their two children have spent their lives giving back to their communities and so selflessly helping people," said Baleigh McCoin, PJC Director of Intuitional Advancement legacy and her influence live on."
Gifts in memory of the Miltons can be made by mailing your gift to the PJC Office of Institutional Advancement, c/o Milton Endowment Fund, 2400 Clarksville Street, Paris, TX 75460.
For more information or to make a donation in honor or memory of someone else, please contact Baleigh McCoin, Director of Institutional Advancement, at (903) 782-0276 or bmccoin@parisjc.edu.